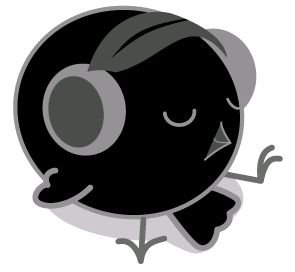 Song bird is mozilla's offering in the media player category. In other words, it is the musical cousin of Firefox. It has an interface similar to that of iTunes but it does its job pretty neatly and has its own charm and unlike iTunes, it is open source.
Here's a tech sheet of what this media player has to offer:
*
Media Importing
Add media to Songbird by importing from your file system or iTunes.
*
Media Playback
Songbird supports MP3, FLAC, and Vorbis on all platforms; WMA and WMA DRM on Windows; and AAC and Fairplay on Windows and Mac.
*
GStreamer
Songbird uses GStreamer as the main media playback system, across all platforms.
*
Gapless Playback & Replay Gain
Skips padding data due to encoding and chains files for gapless playback experience. Adjusts the playback gain appropriately if a track's metadata contains replay gain information.
*
Album Artwork
Display the currently playing track's album art and write new artwork back to the file. Automatically fetch missing album art from the web.
*
Watch Folders
Automatically import media from a defined folder.
*
Smart Playlists
Create dynamic playlists that automatically update based on criteria you set.
*
Web Browser
Songbird includes an integrated web browser with features like bookmarking, tabbed browsing, and more.
*
Cross Platform
Songbird runs on Windows, Linux and Mac.
*
Multi-language Support
Over 25 completed, community-contributed localizations and growing!
*
Automatic Updates
Always stay up to date using Songbird's built-in automatic updates.
*
Setup Assistant
Quickly setup Songbird for the first time.
*
Custom UI
Make Songbird your own by choosing from dozens of different skins feathers.
*
Library Management
Browse, organize, sort and search your media.
*
Developer Support
Songbird is getting better everyday thanks to its open platform and growing developer community.
In Progress
*
Device Support
Songbird's device support is limited. The Device Support wiki has additional details about what's supported. Apple iPhones, iPod Touch and Microsoft Zune devices are not yet supported.
*
Metadata Management
Songbird supports reading from and writing metadata to many music file formats. We still need to support the ability to fetch additional metadata from popular lookup services.
*
Subscriptions
Subscribe to music blogs and download music directly to your library. We're working on ways to improve this feature.
*
Performance & Stability
Improving the performance and stability of Songbird is an ongoing focus. Each release we set aside dedicated cycles to ensure we're making progress.
Coming Soon
*
CD Rip
CD Rip and encoding are forthcoming.
* Video
On the Way but still not home :(
On the whole, its no Cowon jet audio or an iTunes but it does what it boasts of like a pro. More hits and few misses from songbird for now but i expect more soon!